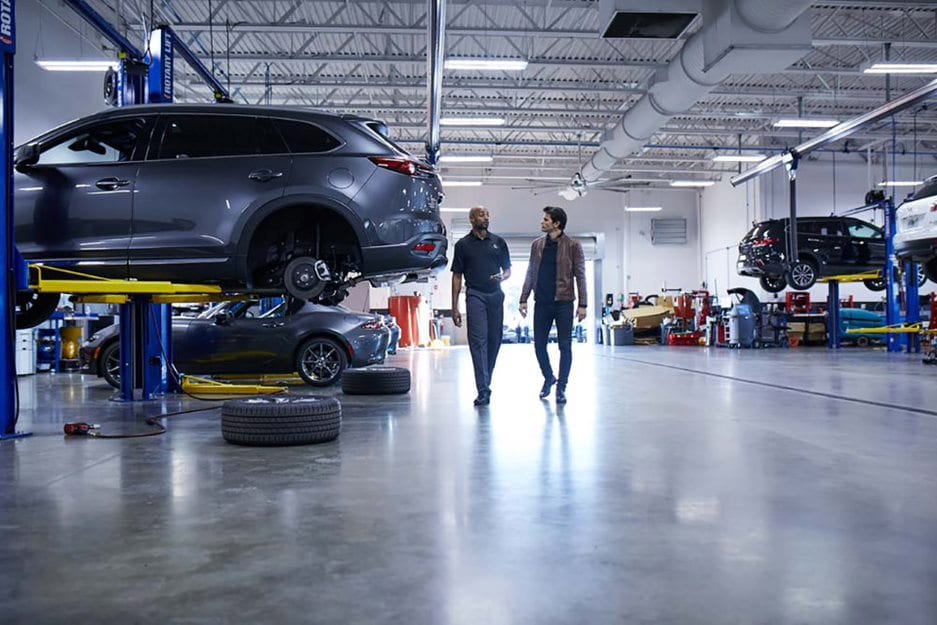 The best way to keep your Mazda car in top condition is to keep up with the manufacturer's recommended Mazda service schedule. Your Mazda vehicle is built with the expectation that it will receive certain types of service at specific mileage intervals and following this service schedule will result in better vehicle performance and fuel efficiency. Though your exact service schedule will vary based on your specific model, this is a general guideline to keep you cruising for years to come.
Six Months or 7,500 Miles
After either six months or 7,500 miles have passed, it's time for an oil change service. This includes changing your motor oil and oil filter, topping off your fluids, replacing your air filter, and checking your tire pressure. Your tires should also be rotated every 7,500 miles to ensure even wear.
12 Months or 10,000-12,000 Miles
At this interval, it's crucial to have your brake system inspected for damage and wear. At this time, our technicians may change some components, such as pads or rotors, and ensure your brake fluid system is filled and intact.
24 Months or 30,000 Miles
In addition to getting your six-month oil change completed at this time, our technicians should also:
Inspect brake lines, hoses, and connections
Inspect disc brakes
Inspect front and rear suspension
Inspect driveshaft dust boots
Tighten nuts, bolts, chassis, and body
Inspection steering system
30 Months or 37,500 Miles
At this interval, the regular oil change should be completed, and the drive belts should be inspected.
48 Months or 60,000 Miles
The four-year mark is another milestone for Mazda maintenance. Our mechanics will use OEM Mazda parts to complete the following repairs and inspections:
Inspect hoses and tubes for emissions
Brake inspection
Front and rear suspension inspection
Ball joint inspection
Driveshaft dust boot inspection
Schedule MAZDA Service in Asheville, NC Today
To keep your Mazda car or SUV in top condition, it's important to keep up with your maintenance schedule. Make an appointment with the certified technicians at Fields Mazda of Asheville today!